Your future employees are here.
In the economic engine of Montgomery County, where the growth of highly skilled jobs is outpacing available candidates, it is more critical than ever that we provide flexible pathways to the careers that will directly power tomorrow's workforce. 
Simply put: that's good for the students, good for the employers, and good for the economy.
---
Engagement Beyond the Traditional Internship
Our Employer Toolkit models are designed with the tools and best practices that businesses need to easily engage students; providing students with the experience to make them career-ready and building a pipeline of future employees for your organization. 
If you have 1 day to engage with students:
Career Immersion - A half day, on-site career exploration activity where a group of students tour an organization and receive an overview of careers. The ACES Career Readiness Program is currently seeking regional employer partners for piloting virtual career immersions! Let students explore your organization virtually!
Job Shadowing - A one-day, one-on-one experience on-site at an organization which enables a student to explore a particular industry or career. The student will observe, ask questions, and network.
If you have 1 week to engage with a student:
Microinternship - Short-term placement with an employer, generally with a duration of less than 30 days, which focuses on the completion of a clearly defined project.
Virtual Internship - An internship where the student gains experience while working remotely. Virtual internships can also be hybrid in form (both on-site and off-site), providing the student and employer with additional flexibility.
If you have 1 semester or more to engage with a student or group of students:
Traditional Internship - Enables students to obtain professional development opportunities on-site with an employer. Traditional internships range from three to six months in time, and have the potential to lead into full-time opportunities post-graduation for students.
Team-Based Internship - A multi-disciplinary student team focused on solving a challenge for a business.
Mentoring - An experienced professional assisting a student in developing specific skills and knowledge that will enhance the student's professional and personal growth.
---
Employer Benefits
USG is a recognized leader in economic and workforce preparation for Montgomery County and the greater region. It is more critical than ever that we provide pathway to degrees and careers that will directly power tomorrow's workforce. 
Easy
Customizable templates for each model of student engagement.
Pipeline 
Developing of a diverse, local pipeline of qualified applicants for future hire.
Deliverables
Opportunity for completion of short-term or long-term projects for your organization.
Marketing
Marketing and company name recognition among the USG community.
Industry Interest
Spurring of interest in your particular industry among future generations of employees.
New Perspectives
An opportunity to collect new ideas from students regarding processes, organizational branding, and more.
---
Students at USG. 
The next generation of your workforce.
Train them today to be your new hire tomorrow.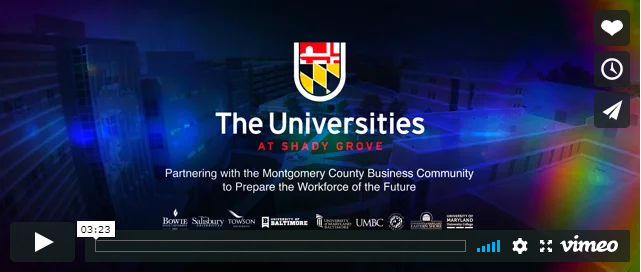 Thank you to these and the many other regional employers who have provided meaningful career exploration and experiential learning opportunities for the student community at USG! These employers are making a difference in the lives of students.