Dr. Anne Khademian
Executive Director, The Universities at Shady Grove, and Associate Vice Chancellor for Academic Affairs, University System of Maryland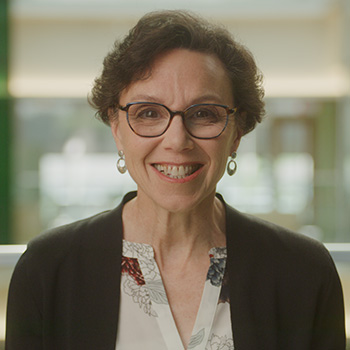 Dr. Anne Khademian was named to serve as the Universities at Shady Grove's third executive director in October 2020, following a nationwide search and her appointment to the post by Dr. Jay Perman, Chancellor of the University System of Maryland. As executive director of USG – a regional higher education center of USM in Montgomery County, with programs from nine universities on one campus – Dr. Khademian also holds the title of Associate Vice Chancellor for Academic Affairs for USM.
Before joining USG, Dr. Khademian served most recently as a Presidential Fellow and professor at Virginia Tech, where she enjoyed a stellar 17-year career that included several years as director of the School of Public and International Affairs. A longtime resident of Montgomery County, Maryland, she served in her presidential fellowship in Virginia Tech's Research Center in Arlington, near Washington, D.C. In that capacity, she supported the collaborative implementation of "Beyond Boundaries" initiatives, working across the university's campuses and stakeholder committees to support organizational innovation and growth.
With nearly three decades of experience in higher education, Dr. Khademian is a nationally recognized scholar and author in the areas of inclusive leadership and organizational change. As director of the School of Public and International Affairs in Virginia Tech's College of Architecture and Urban Studies for seven years, she led the school through a period of significant growth and transformation, including the introduction of new academic degrees and programs; increased student enrollment; new faculty hires; forging of new global partnerships and initiatives; and extended outreach into the local community.
Dr. Khademian's research focuses on leadership and organizational culture, inclusive management, policy networks, and the work of organizations involved in homeland security and financial regulation. She is the author of three books: Working with Culture: The Way the Job Gets Done in Public Programs (CQ Press, 2002); Checking on Banks: Autonomy and Accountability in Three Federal Agencies (Brookings, 1996); and The SEC and Capital Market Regulation: The Politics of Expertise (University of Pittsburgh Press 1992). She has also published numerous articles on public management and public policy.
Dr. Khademian is a fellow of the National Academy of Public Administration, an independent, nonprofit, and nonpartisan organization established by Congress to assist government leaders in building more-effective, efficient, accountable, and transparent organizations.
As part of her leadership in the community, Dr. Khademian serves on the boards of both the Montgomery County Chamber of Commerce and the Montgomery County Economic Development Corporation. She is also on the Board of Directors for the American Red Cross, National Capital Region for the Montgomery, Howard and Frederick Counties Chapter and the Board of Directors for Smart City Works. In addition, she is a member of the Leadership Montgomery CORE Class of 2023.
Dr. Khademian holds a B.A. in Political Science and a Master of Public Administration from Michigan State University, and a Doctor of Philosophy (Ph.D.) in Political Science and Government from Washington University in St. Louis, Missouri. She was a cross country and track star while at Michigan State and in 2016 she was inducted into the university's Athletic Hall of Fame.
Dr. Khademian also hosts a video podcast series called "This is USG" and an audio podcast entitled "AKA Innovation," which showcases innovative leadership and business practices that can help to drive transformation and innovation in education.