Gov. Larry Hogan, higher education leaders, students, and local elected officials were among those celebrating expanded opportunity for Marylanders as the University of Maryland, Baltimore (UMB) and other institutions unveiled new programs and services on Nov. 7 in Montgomery County, Md.

The occasion was the grand opening of the Biomedical Sciences and Engineering (BSE) Education Facility at the Universities at Shady Grove (USG) in Rockville. The $175 million, state-of the art building includes a community dental clinic that the University of Maryland School of Dentistry (UMSOD) will open to patients in January.
(View a video below and a photo gallery.)
UMB President Jay A. Perman, MD, was joined by Mark A. Reynolds, DDS, PhD, MA, dean and professor, UMDOD, at the event that featured a ribbon-cutting ceremony, tours, and demonstrations for visitors to the dental suite by UMSOD students.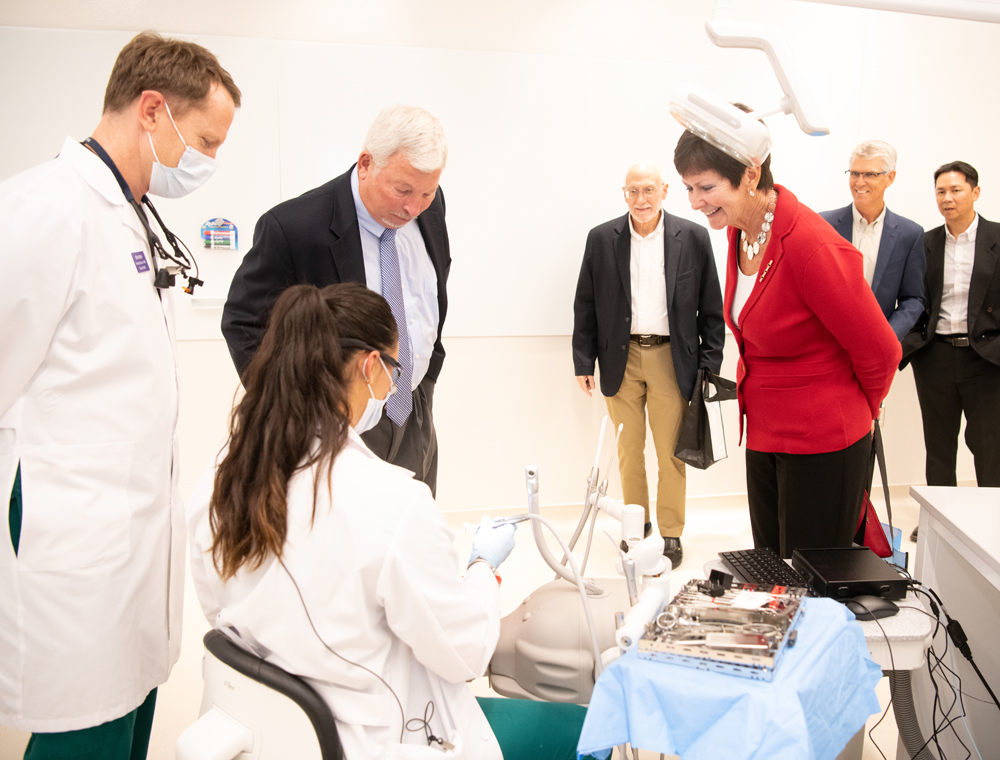 Third-year School of Dentistry students Ben Horn, left, and Sahar Nesvarderani demonstrate techniques for guests during the grand opening of the Biomedical Sciences and Engineering Education Facility at the Universities at Shady Grove.
"The School of Dentistry's new educational programs and clinical facility at USG will expand our ability to educate highly skilled clinical practitioners and leaders in oral health care as well as improve access to dental services for underserved residents of Montgomery County," Reynolds said.
 
BSE is a six-level, 220,000-square-foot facility that will double the footprint of the campus and enable USG to increase enrollment capacity from its current 3,000-plus students to more than 7,500 over the next several years, according to USG. The campus houses programs of nine institutions in the University System of Maryland (USM).

The event began with a luncheon and panel discussion for invited guests. The moderator was Christopher P. Austin, MD, director of the National Center for Advancing Translational Sciences at the National Institutes of Health and a member of the USG board of advisers. Panelists were the presidents of institutions with expanded offerings in BSE, including Perman; the University of Maryland, Baltimore County's Freeman Hrabowski, PhD; and the University of Maryland, College Park's Wallace D. Loh, PhD, JD.

In keeping with the mission of BSE, their subject was STEMM (science, technology, engineering, math — and medicine). Addressing the additional "M" in STEMM, Perman said, "I often tell medical students looking ahead toward 40 years or so of practice, that if they want to enjoy a career in medicine, they need to crave what they learned in basic science."

Perman also asked a rhetorical question. "What's this building going to do for Montgomery County, the state, and for our learners at UMB?"

"A lot," he declared, supplying his own answer before describing the expanded dental offerings, including patient care to bolster oral health in the region.
UMSOD is introducing two innovative programs to educate and train future leaders who will work interprofessionally to address oral and systemic health connections and improve patient outcomes.
The Clinical Dental Hygiene Leader Program (CDHL), in which coursework begins in June, becomes the only Master of Science (MS) degree in dental hygiene in the state. Through this two-year, dual-degree program, qualified college graduates can obtain both a second Bachelor of Science degree and the MS, producing dental hygienists who can assume key leadership roles in a variety of clinical, educational, public health, and health care settings.
The Postbaccalaureate Certificate in Oral Health Science Program, to be offered beginning in fall 2020, is for non-dental health care professionals who want to build core oral health competencies to better respond to patients' needs and more holistically manage patient care.
The new clinic is expected to provide oral health care to 3,000 to 4,000 patients, many of whom are currently underserved and eligible for services on a reduced-fee basis. The suite of 24 dental chairs and adjoining operatory facilities will enable UMSOD to provide comprehensive dentistry for adults and children, with treatment by UMSOD postdoctoral residents, general dentistry students, and dental and dental hygiene students under UMSOD faculty supervision.
USM Chancellor Robert L. Caret, PhD, in remarks to several hundred guests assembled for the ribbon-cutting, noted that the clinic becomes one of the largest community dental clinics in the state. What's more, its function helps USM fulfill its mission. "Universities have three primary roles," he said, the first being education and the second economic vitality. "The third is social well-being of the region in which they reside. This kind of facility allows us to do all three of those things in ways that would not be possible without them."

USG executive director Stewart Edelstein, PhD, said, "The BSE is about science — science on display — and teaching the application of science to improve the human condition." He noted that an entire floor (the second) is devoted to health and medical education and described amenities in the community dental clinic while inviting guests to see for themselves.

Awaiting them in the UMSOD simulation laboratory adjacent to the clinic were Katherine Perez Sandoval, Megan Didion, Fahimeh Razian, and Meskerem Melorea, members of the Dental Hygiene Class of 2020; and Sahar Nesvarderani and Ben Horn, members of the Doctor of Dental Surgery Class of 2021.

Nesvarderani commented on the advantages of becoming familiar with the latest equipment and technology, such as lightweight, air-driven hand pieces. Didion also expressed students' appreciation for the state-of the-art technology. "The more practice we get, the better our clinical skills are going to be," she said.

Razian, Melorea, and Perez Sandoval all spoke of how the new offerings in dental hygiene will broaden opportunities for those in the area who wish to enter the career, saving time, energy, and costs. "People won't have to go long distances from home to get the education they need," said Perez Sandoval.

Sharing a work station, Horn and Nesvarderani demonstrated, among other techniques, how students learn by using a typodont, or model of the oral cavity, for a guest who lives nearby at a residence for the elderly.
With its new academic programs and clinic at USG, Reynolds noted, "The School of Dentistry will be drawing upon its expert faculty as well as the unique interprofessional opportunities found at the USG campus to prepare graduates for successful careers in emerging new models of multidisciplinary health care delivery."

In addition to the new dentistry programs, UMB offerings at USG include programs of the University of Maryland School of Nursing, the University of Maryland School of Pharmacy, and the University of Maryland School of Social Work.