Support Your Region
Supporting scholarships at USG helps give talented students in Montgomery County a way to earn their bachelor's degree, while supporting the development of a highly skilled workforce in our region.
Support Your Organization
Many local businesses, foundations, community organizations, and individual donors have established scholarship funds or endowments for students at USG, based on criteria related to their goals or mission.
Scholarship Pledging Opportunities
Each year, The Universities at Shady Grove changes the lives of thousands of students in Montgomery County and beyond by providing educational opportunities that might otherwise be out of their reach. Our students learn from world-class faculty members from nine campuses of the University System of Maryland. We provide valuable scholarship support to dozens of students and we share mentoring and internship opportunities that help to propel their future careers.
Bridging a Crucial Gap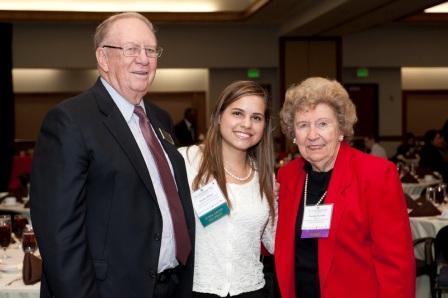 Philanthropists Clifford and Camille Kendall recognized the financial challenges transfer students face.
In 2002 they created the first endowed fund that provides full tuition and fees scholarships for deserving students who begin their studies at Montgomery College and continue their baccalaureate education at the Universities of Shady Grove.