The Universities at Shady Grove (USG) recently celebrated the opening of its first new parking garage, which features environmentally sustainable design and adds 600 parking spaces to the campus. Michael Priddy, Chairman of the USG Board of Advisors and Patrick Caulfield, President of Coakley Williams joined USG Executive Director Stewart Edelstein and Director for Administration Karen Mitchell for a ribbon cutting to officially open the garage in late August.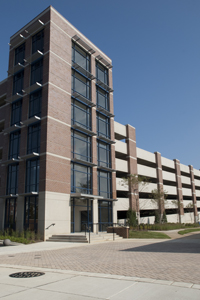 The garage, located on the north side of campus at the corner of Darnestown Road and Traville Gateway Drive is close to public transportation routes. The 193,000 square-foot-garage was designed by DNC Architects of Rockville and built by Coakley-Williams Construction of Gaithersburg. Project management was provided by the University of Maryland, Department of Architecture, Engineering and Construction. The garage was built using sustainable design to coincide with the Universities at Shady Grove's focus on environmental stewardship. Along with many environmentally sustainable design elements, during the garage's construction process, 73.5% of the waste created was recycled.
The garage features designated parking spaces for hybrid, carpool vehicles and bicycles. It was built with LED lighting and includes daylight sensors to reduce power requirements and light pollution, and a white concrete top deck to decrease the "heat island" effect. Materials with recycled content such as fly ash, concrete, rebar were used as well as carbon fiber reinforced precast. Rainwater collection, water efficient landscaping and water control devices also reduce water runoff. In addition, there is an energy efficient elevator and reclaimed green spaces.
A stairwell canopy is equipped with lights powered by a solar panel and solar shades were installed on the south elevation of the elevator tower to reduce heat build up in the elevator interior.
The garage's signs are made of recycled metal and further the garage's environmentally sustainable theme. First floor signs feature "earth," second is "water," third is "environmental construction," fourth is "recycling," the fifth is "energy," and the sixth is "solar." To compliment the design elements, metal art screens to be installed on the northwest side of the garage will also feature the sustainability icons.
At the center of USG's campus-wide sustainability initiative is the Camille Kendall Academic Center, the largest green higher education building in the state of Maryland, and one of the first University System of Maryland buildings to achieve Leadership in Energy and Environmental Design (LEED®) Gold certification through the U.S. Green Building Council.