College students looking to gain a competitive edge in the rapidly growing biotechnology and life sciences industry can now earn a Bachelor of Science in Translational Life Science Technology (TLST) from UMBC, through a new and first-of-its-kind program offered at the Universities at Shady Grove (USG), in partnership with Montgomery College (MC).
On April 30, UMBC president Freeman Hrabowski, USG executive director and USM Associate Vice Chancellor for Academic Affairs Stewart Edelstein, and Montgomery College president DeRionne Pollard celebrated the program's launch with special guests at an event at USG.
"This program will contribute to economic growth at the state and local levels as our alumni enter the workforce with the skills needed to work in critical, growing STEM fields," said President Hrabowski. "By partnering with Montgomery College and hosting the program at the Universities at Shady Grove, we will be able to meet students where they are—and where the jobs are. I look forward to seeing the program grow and hearing about the achievements of its alumni."
TLST will be one of the first programs offered in USG's new Biomedical Sciences and Engineering Education Facility when the building opens this fall. It is also UMBC's first undergraduate STEM program to be offered at USG. The program began in fall 2018 with classes in the Bioscience Education Center Building at Montgomery College-Germantown while the new building at USG was being completed. A new cohort of students will enter the program at USG this fall, having completed the first two years of their coursework at MC.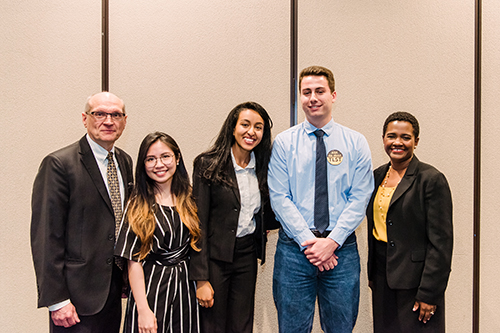 "One of the many reasons we are so excited about the launch of UMBC's TLST program at USG is that it will become one of the first to make its home in our new Biomedical Sciences and Engineering (BSE) Education Facility when it opens this fall," said Edelstein. "The BSE is an extraordinary, state-of-the-art educational laboratory building that will provide us with the opportunity to bring many in-demand programs in the STEM fields that are needed to support workforce needs in our region." 
Translational Life Science Technology combines the theory of a traditional life science degree with hands-on, real-world applications of the process for translating scientific discoveries into life-saving solutions. Students in the program develop an understanding of such specialties as cell biology, lab instrumentation, bioinformatics, biostatistics, epidemiology and biochemical engineering, and how to apply that knowledge to the design and development of diagnostics, therapeutics, vaccines, and other biotechnology products.
"Montgomery College is thrilled to be partnering with UMBC and USG on the Translational Life Science Technology program," said President Pollard. "This innovative program is a powerful tool in preparing students for in-demand jobs in the biotechnology sector. It is also an asset for numerous local companies that depend on higher education to fill their needs for skilled life sciences workers."
The TLST degree is designed especially for students who want to apply their skills and interest in the life sciences as members of the teams that are creating innovative biotechnology solutions that will transform the health, agriculture, and environment sectors.
Annica Wayman, Associate Dean for Shady Grove Affairs, UMBC College of Natural and Mathematical Sciences, noted that TLST trains students in the work that often happens "behind the scenes," between discoveries in basic science and fully developed applications in practitioners' hands, such as drugs or medical devices. She is coordinating the launch of the program for UMBC at Shady Grove.
Wayman is also leading a re-launch of UMBC's Master of Professional Studies in Biotechnology at USG, which had previously been offered at the university's main campus. According to Wayman, UMBC is well-suited to offer such programs at USG for several reasons, including the campus location in the heart of Montgomery County, where 75 percent of Maryland's 2,300 life science companies are headquartered.
For more information on the UMBC TLST Program at USG, visit http://shadygrove.umbc.edu/tlst.
Photo Credit: Marlayna Demond for UMBC