[Original article published on November 7, 2019]
On November 7, 2019 the Universities at Shady Grove (USG) celebrated the opening of its new Biomedical Sciences and Engineering (BSE) education facility. The programs in this building -- including healthcare, biosciences, engineering, computational science disciplines, and a community dental clinic -- will prepare students in real-world settings to receive degrees in some of the most sought-after and fastest growing industries. Graduates will be ready to take on the jobs that power our region. This state-of-the-art facility shows strong performance in all areas of sustainable design and is registered with the certification goal of LEED Platinum.
Built For Breakthroughs
Montgomery County, MD has a long history of investing strongly in education. USG -- which offers approximately 80 undergraduate and graduate programs from nine different state universities on one convenient campus -- is a prime example of that investment. USG is committed to creating an environment that promotes the education of students; the growth and long-term success of companies; and the economic prosperity of the residents and businesses of the region. With the addition of the BSE facility, opening fall 2019, USG will be able to take that commitment to a new level -- setting a new standard in high-quality, higher education that directly meets the region's economic and workforce development needs.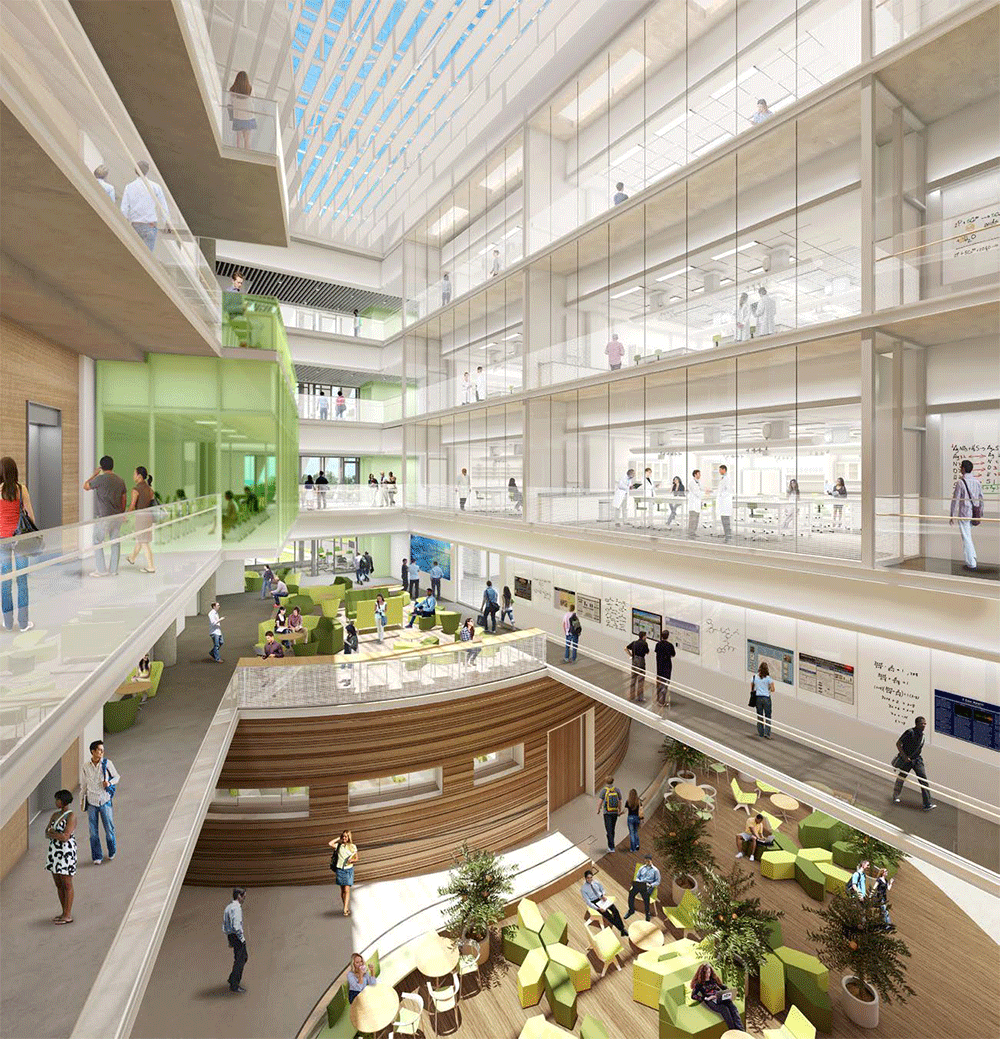 Building a Skilled Workforce
Within the next 25 years, one quarter of the nation's job growth is projected to be in health, healthcare delivery, and the biosciences. Job opportunities in the Science, Technology, Engineering, Mathematics, and Medical (STEMM) fields in Maryland are on pace with that projected growth, but the demand for skilled employees far outpaces the supply. Montgomery County is often described as "the economic engine" of Maryland. As such, now is the time to provide students with access to the degrees and careers that will directly power tomorrow's workforce. USG's BSE Education Facility is designed to be a pathway of innovation and opportunity for students in and around Montgomery County, MD.
Key Features of the BSE
Six-level, 220,000-square-foot facility that will more than double USG's enrollment capacity
High-demand programs in healthcare, biosciences, engineering, and computational science disciplines
Baccalaureate, professional, and advanced graduate degrees
20 fully-equipped teaching laboratories
Two 120+ seat lecture halls
12 active learning classrooms
Clinical training facilities, including a state-of-the-art dental clinic with 20 dental chairs and four surgical offices
Product design laboratory and maker space for student research
Academic offices
Expanded student services
Innovation and entrepreneurship center where students and mentors will work collaboratively with local businesses to develop new ideas and technologies
Designed to be one of the region's most sustainably-sourced and built laboratory buildings, the BSE is on track to achieve LEED Platinum certification
BSE Academic Programs
Maryland's premier research and teaching universities, University of Maryland, College Park; University of Maryland, Baltimore; and UMBC; will be the first to offer undergraduate and graduate degrees in healthcare, biosciences, engineering, and computational science—all of which are critical and rapidly growing industries in our region.
BS Translational Life Science Technologies*
BS Translational Life Science Technologies—Bioinformatics*
BS Computer Science—Data Science*
BS Computer Science—Cybersecurity*
MPS Biotechnology*
MPS Cybersecurity*
MPS Technical Management*
MPS Data Science*
University of Maryland, Baltimore
Patient Care Facility and Advanced Education Program in General Dentistry
BS/MS Clinical Dental Hygiene Leader*
Post Baccalaureate Certificate in Oral Health Science*
University of Maryland, College Park
BS in Biological Sciences*
BS Information Science*
BS Embedded Systems & Internet of Things*
BS Biocomputational Engineering*
BS Agricultural Science and Technology
* Currently Enrolling Students
ADDITIONAL PROGRAMS COMING SOON
BSE Links and Videos

Built for Breakthroughs
BSE Ground Opening Live Video
Breaking New Ground
Preview USG's BSE Education Facility