After two years of almost all major campus events being held in a virtual setting due to the pandemic, the Universities at Shady Grove held its first in-person International Night since February of 2020. The celebration was spectacular and a welcome relief for participating students, staff and faculty. While student diversity is celebrated each day, International Night provides the USG community the opportunity to learn about different cultures through traditional cuisine, performances, attire, and more.
This year's International Night, which took place on March 15, began with attendees being able to visit different stations representing various countries around the world, as well as having the chance to try different traditional cuisines from around the world. Once attendees were settled in, student hosts Nate John and Fatima Zuhal Qasimi welcomed the large audience, with introductory comments and an overview of the evening.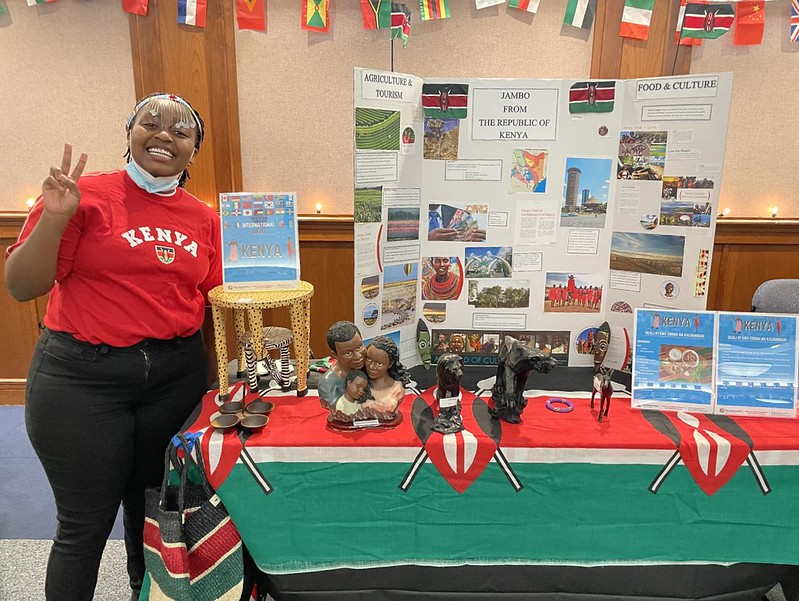 There were many highlights throughout the event, one of which was the fashion show. Students and faculty from countries around the world showcased their traditional cultural attire, while the event hosts read brief descriptions of the outfits and their significance. 
Another way that attendees were able to learn about the different cultures of the world was through traditional cuisine, and the various exhibit tables around the room which gave attendees information about different countries throughout the globe.
The table representing Kenya was staffed by Celine Mworia, a USG student at USG, who happily and readily informed attendees about different facts about Kenya. For example, she noted how Simba is the Swahili word for Lion, and how visitors can watch the great wildebeest migration…from a hot air balloon! Mworia also challenged attendees to take a quiz about the information they learned; if they answered three questions correctly, they were rewarded with a Kenya t-shirt.
The Philippines table was staffed by Amiela Arcellana, Ritzelle Brecio, and King Ortegas. Here, visitors learned about famous/notable figures, the religions practiced, traditional cuisines and their recipes, and other information regarding the Philippines.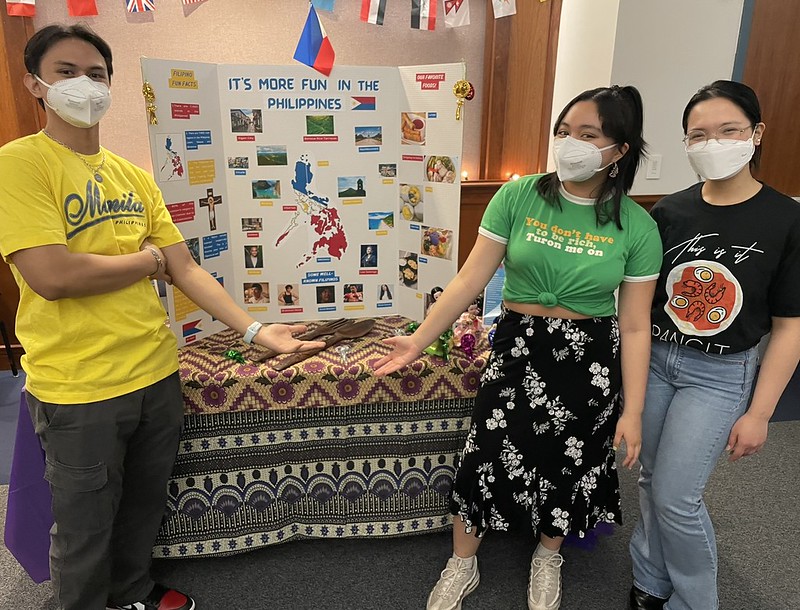 As participants reflected on the opportunity to gather together again for the celebration, host Nate John noted: "It's great to have events such as International Night in-person again, I feel like the best way to get immersed in a culture is to physically be there to take it in, and this is a great way to do just that."
When asked about what she enjoys most about International Night, Amiela Arcellana, who helped run the Philippines table, said: "Events like this are great, not only because they introduce students to each other's culture, but also because they remind us about where we come from"
The evening concluded with multiple cultural performances, ranging from step, sword, and lion dancing, ending the evening on a high note, and leaving attendees eagerly awaiting the next International Night.
To see photos and video clips from this year's USG International Night, visit USG's Flickr account and check out the recap video below.