The Universities at Shady Grove (USG) recognized nearly 1,000 fall 2018 and spring 2019 graduates from its nine partner universities at two signature events. USG's Graduation Celebration for undergraduate students was held on Thursday, May 9th and the Graduation Gala for graduate and professional students was held on Friday, May 10th.
The Honorable Nancy Navarro delivered the keynote address during the Graduation Celebration. She shared her advice with students, "It is imperative that you own your potential and own your power so that you can make a positive difference."
The student speaker was Shufaa Missana, a Public Health Science student at the University of Maryland, College Park. She delivered a heart-warming and inspirational speech that was dedicated to her parents. The Graduation Celebration was live streamed on YouTube, where Shufaa's father was able to watch in Tanzania. The video is avilable here.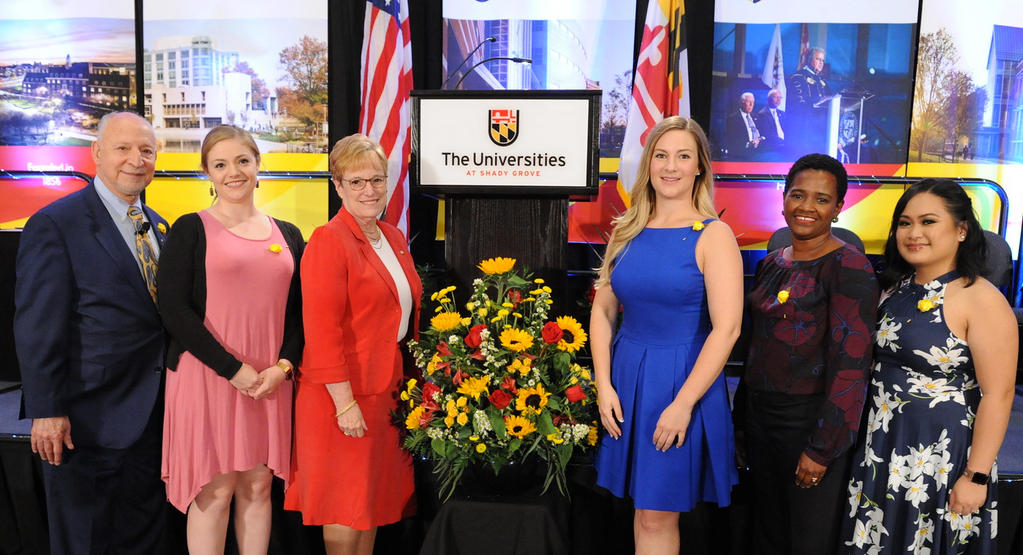 Dr. Annica Wayman, UMBC Associate Dean, Shady Grove Affairs in the College or Natural and Mathematical Sciences, was the keynote speaker for the Graduation Gala. The student speaker was Karilyn Mason, from the University of Baltimore Integrated Design masters program.  Karilyn shared her journey and advice on how to over come your obstacles. Her speech was dedicated to her father who had passed away from cancer.
During the Graduation Gala 10 students received Academic and Community Excellence Awards. These awards celebrated students who have made outstanding contributions to their community in the areas of scholarship, service, leadership, and involvement. One student from each graduate/professional program at USG is eligible to receive this award.
This year's class shows steady growth since the first graduating class of 36 students in 2002. In total, more than 12,000 students have received bachelor's and graduate degrees from programs offered at USG. "The students at USG are remarkable and our partner universities are exceptional. We would not be able to celebrate these accomplishments without such a strong and driven community." said Dr. Stewart Edelstein, USG Executive Director and Associate Vice Chancellor for Academic Affairs for the University System of Maryland.
Both events were huge successes. Students will be graduating during the next several weeks in commencement ceremonies at their respective home campuses.
Photos of the Graduation Celebration.
Photos of the Graduation Gala.