Monday, October 28, was a beautiful, blue-sky day and the campus was buzzing with excitement in anticipation for the arrival of world-renowned humanitarian and Chef, Jose Andres. Fresh off his World Series first pitch the night before, Chef Jose Andres arrived by Uber from his home in Bethesda.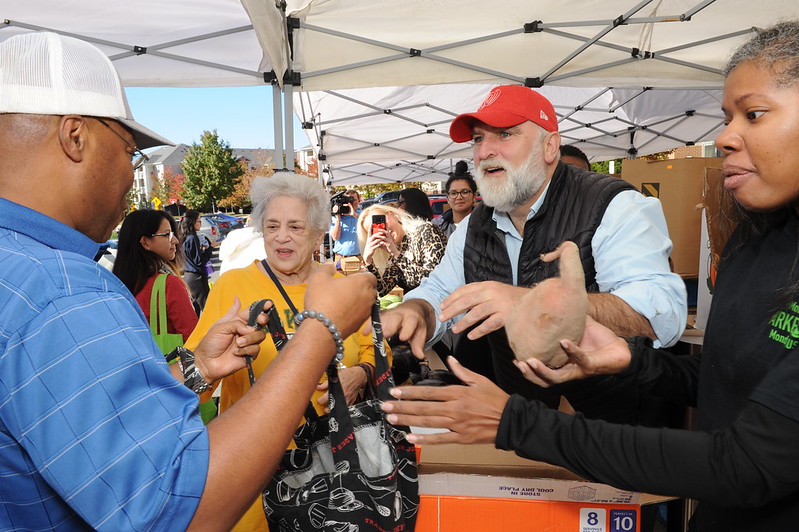 He was whisked away on a whirlwind tour of the USG campus and made a stop at the Mobile Market, a free food distribution event that takes place on the fourth Monday of every month with food donated from the Capital Area Food Bank. Students and community members of all ages were lined up to receive free fruits and vegetables. Chef Jose Andres helped hand out food and took time to pose for photos (see all photos here).
From there he was brought into the Marriott Teaching Kitchen, where he met with long-time friend and University of Maryland Eastern Shore (UMES) faculty member, Chef Susan Callahan and her culinary students. He greeted each student and sampled some of their food as he answered their questions.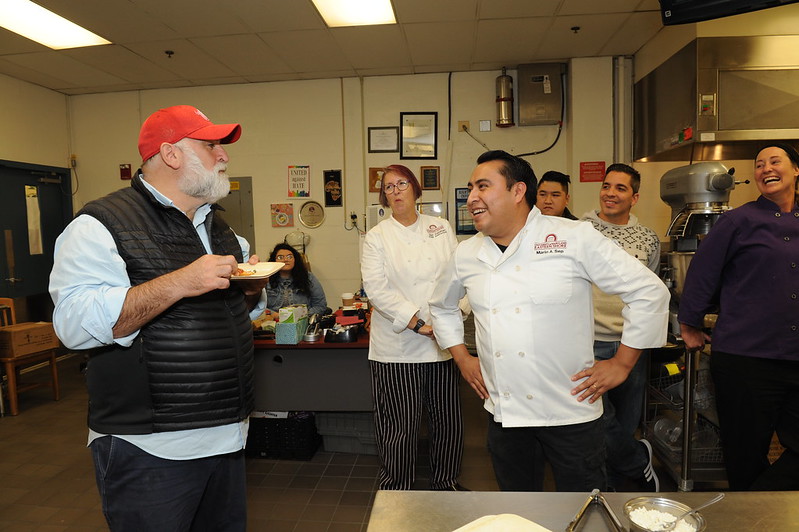 Then he was ushered onto stage for the USG Civic Engagement Event: Ingredients for Change. The USG Civic Engagement Series are events that happen twice a semester in collaboration with a partner university and program at USG. This event was in collaboration with UMES's Hospitality and Tourism Management program. The event included Manna Food CEO, Jackie DeCarlo and UMES alumnae, Rivka Alvail ('13). Chef Jose Andres talked about how passion, partnership and a sense of community can inspire action and change. He showed several photos of his work around the world reiterating this message. Jackie DeCarlo was able to bring his message to a local level and talked about how creating these opportunities contributed to the betterment of the Montgomery County community. It was then opened up to a Q&A session and Chef Jose Andres answered questions from students and community members.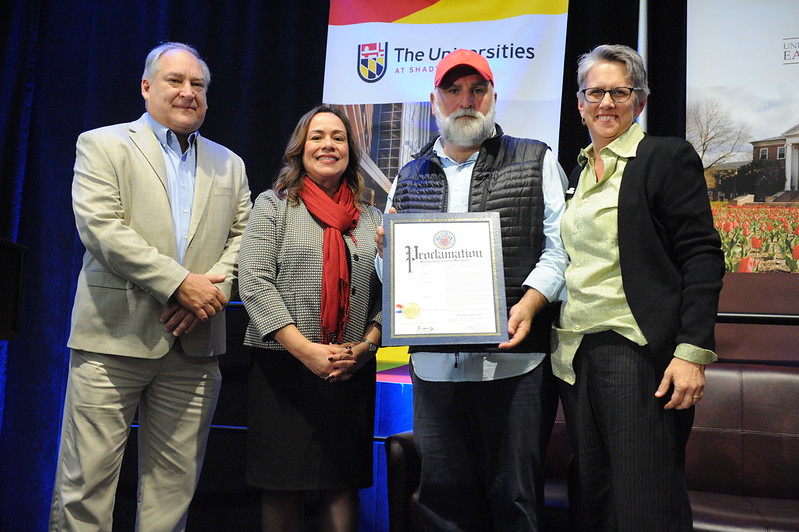 Montgomery County Executive Marc Elrich and Montgomery Council President Nancy Navarro were also in attendance to present Chef Jose Andres with a proclamation declaring October 28 as Chef Jose Andres day in Montgomery County. At the conclusion of the event, Chef Jose Andres took time to take photos and talk with attendees. Several news stations were in attendance and conducted interviews. Here are a sampling of some of the news stories: