Announcements
Shady Grove Education Center III received the "Public Building of the Year Award" from the Maryland component of the American Institute of Architects. The award is made to the University System of Maryland for Excellence in Design. SG III was designed by Cannon Design.
SG III is the largest "green" educational building in the state of Maryland and has earned a LEED (Leadership in Energy and Environmental Design) Gold certification from the U.S. Green Building Council, making it one of the highest ranked "green" buildings in the university system and in Montgomery County.
Click here to view award website
Click here to see copy of award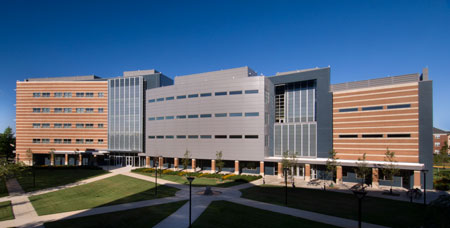 Media Contact
Joe Bucci
301.738.6356
jbucci@umd.edu
Susan Whyte Simon
240.994.6541
awsimon@umd.edu
The Universities at Shady Grove is an innovative model for delivering top-quality higher education. USG is not one university; instead it is a collaboration of nine leading public universities in Maryland offering more than 60 undergraduate and graduate degree programs in Montgomery County. Established in 2000, USG serves an estimated 2,600 full- and part-time students.