What is the world's most renowned game-design competition supposed to do when a global pandemic turns the world upside down? Go virtual, of course, as the annual Global Game Jam did this year, including the local version of the worldwide event that is hosted annually by the University of Baltimore's (UB) Simulation and Game Design program at USG.
Each year, the event takes place simultaneously around the world during a weekend. Due to the unprecedented nature of COVID-19, this year's Global Game Jam was turned into a fully virtual event — with participants all working remotely on their gaming projects and teams. The UB-sponsored, virtual event took place from Wednesday, January 27 through Sunday, January 31.
UB Professor Elka Cahn, the jam site organizer, has been hosting Global Game Jam at USG for the past seven years. In having to restructure an event that primarily takes place in-person, she said they "tried to organize it so that participants could still feel a sense of community and togetherness even though we were not in the same physical location." 
Participants met via Zoom before breaking into groups on Discord, a group server with chat and voice channels. Though participants met online and were able to communicate with each other, "the longer online event was definitely missing some of the intensity of an in-person event", said Cahn.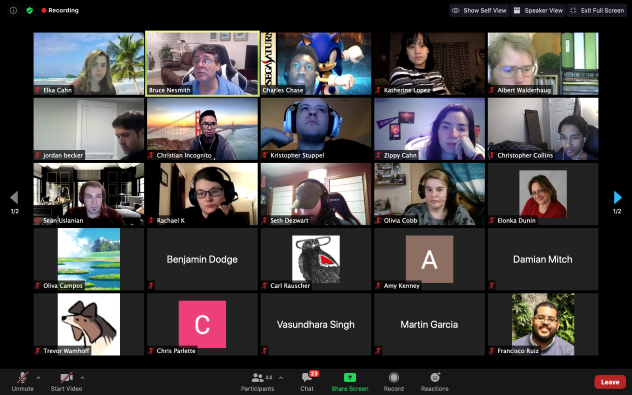 This year, more than 25,000 game design participants registered in 585 jam sites located in 104 countries. At USG alone, there were 50 participants, which consisted of designers, animators, programmers, and writers. Ranging from college students to professionals, they spent four days working diligently to develop a video game that captured this year's theme: "Lost & Found." 
This year's winning groups consisted of current students of the UB gaming program. In first place, the winners of this year's judge's award and the audience award went to "Lost and Farm." The team consisted of Joseph Liu, Tri Bui and Sean Uslanian, who designed a game in which a simple farm girl must find her lost companion while defeating vegetable monsters.
Second place went to "Tassel'' developed by returning participant, Steven Ostuni. The goal of this game is to collect tassels while avoiding obstacles such as monsters. In third place was "Guinea Dig 2 Many Kids." This team consisted of Jenny Couture, Todd Lees, Michael VanDaniker, and Shahrukh Mustakim. Playing as a guinea pig, the player's goal is to capture all of your children before the snakes do. 
Bruce Nesmith, senior designer at Bethesda Studios and lead designer for The Elder Scrolls series, returned to this year's USG event as the keynote speaker and led an insightful informational session about what goes into making a game equal. Nesmith said that when making a sequel, it is important to pay attention as it is "easier to mess up." 
Nesmith used some of the experiences in developing Fallout 3 as an example of what is needed when producing a sequel, such as Fallout 4. He described the ins and outs of developing a game and the decision-making process behind them. He informed the audience that when creating a sequel, "you cannot change too much. If you change too much of a game, you make it unrecognizable." This is a key point, as consumers want the same game, but also a new game at the same time. 
Though participants could not come together and immerse themselves in the typical Global Game Jam format, Professor Cahn said she "Hopes that jammers experiment, create, and learn together through games. There's a special type of experience you get when you work in a group toward a common goal within such a short deadline."
For more information about this degree program offered at USG, please visit UB's B.S. in Simulation and Game Design page.