The Universities at Shady Grove (USG) honored 23 graduating seniors from undergraduate programs at USG for their outstanding academic achievement, drive to excel outside of the classroom, and commitment to serving the community during the USG 15th Annual Student Achievement and Leadership Breakfast on April 12, 2019.
"These 23 students are among the best and brightest at USG and represent the next generation of leaders in our region," said Dr. Stewart Edelstein, Associate Vice Chancellor for Academic Affairs for the University System of Maryland and Executive Director of USG. "USG is proud to serve these outstanding students, who understand the value of both academic success and community engagement. We know they are going to have bright futures ahead of them."
USG 15th Annual Student Achievement and Leadership Award Video 2019 from The Universities at Shady Grove on Vimeo.
Outstanding seniors from undergraduate degree programs offered at USG, who have demonstrated academic excellence, received the Student Academic Achievement Award. Award recipients were selected on the basis of grade point average, participation in internships and honor societies, and contributions to their program of study.
Student Leadership and Service Awards also were presented to two seniors who have demonstrated outstanding leadership, service and dedication to USG and the community at large. These recipients were selected based on participation in extracurricular activities, community service and their commitment to their fellow students. The first recipient is Juanita Benavides-Alcala, a Towson University student in the Elementary Education/Special Education program, and the second recipient is Saqib Rana, a University of Maryland, College Park student in the Public Health Science program.
The keynote speaker was Nicole Lynn Lewis, Founder and CEO of Generation Hope. Generation Hope's mission is to surround motivated teen parents and their children with the mentors, emotional support, and financial resources that they need to thrive in college and kindergarten, thereby driving a two-generation solution to poverty. Mrs. Lewis talked about her own trials and tribulations as a teen mother and the why her daughter was the inspiration to starting Generation Hope.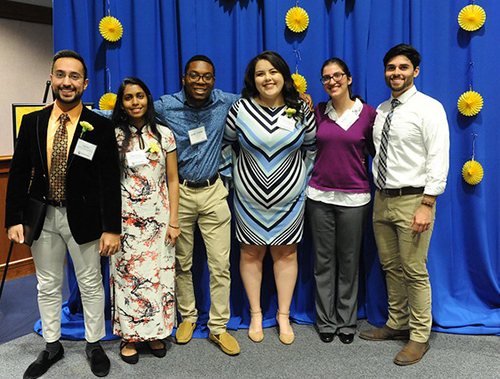 Photos of the event are available here.
2018-2019 Undergraduate Student Achievement and Leadership awardees:
| | | |
| --- | --- | --- |
| Student Name | Program | Institution |
| Cooper Hazel | Exercise Science | Salisbury University |
| Amie Fye | Early Childhood Education | Towson University |
| Elise Lemus | Elementary Education/Special Education | Towson University |
| Wanda Wigley | Health Systems Management | University of Baltimore |
| Ian Vega | Simulation and Game Design | University of Baltimore |
| Jenny Guo | School of Nursing | University of Maryland, Baltimore |
| Chris Ragen | History | UMBC |
| Luis Murillo | Political Science | UMBC |
| Chanell Hedgepeth | Psychology | UMBC |
| Annette Hubbard | Social Work | UMBC |
| Thulasi Kulasinghe | Biological Sciences | University of Maryland, College Park |
| Andrea Guirola | Communication | University of Maryland, College Park |
| Yana Kramarenko | Criminology and Criminal Justice | University of Maryland, College Park |
| Timothy McKelvey | Public Health Science | University of Maryland, College Park |
| Zoha Tariq | Robert H. Smith School of Business - Accounting | University of Maryland, College Park |
| Christian Thema | Robert H. Smith School of Business - Management | University of Maryland, College Park |
| William Trott | Robert H. Smith School of Business - Marketing | University of Maryland, College Park |
| Duy Ly | Construction Management Technology | University of Maryland Eastern Shore |
| Selin Sik | Hospitality and Tourism Management | University of Maryland Eastern Shore |
| Krisztian Mazo | Business Administration | University of Maryland University College |
| Muhammad Riaz | Computer Networks and Cybersecurity | University of Maryland University College |
| Juanita Benavides-Alcala | Elementary Education/Special Education | Towson University |
| Saqib Rana | Public Health Science | University of Maryland, College Park |