In just a few short months when the Fall 2022 semester launches at the Universities at Shady Grove, a mechanical engineering program will be made available to students for the first time through UMBC-Shady Grove. The program, which is now accepting its first students, has been a long time coming for UMBC and in particular for the program director, Dr. Charles Eggleton.

Eggleton, who goes by Chuck, came to UMBC in 1998. By 2006, the State of Maryland approached UMBC's President Freeman Hrabowski with the plan of developing a mechanical engineering program to be offered at USG, which had just opened its doors six years earlier. The program would be housed in a brand new building, designed to fit the cutting-edge needs of biomedical sciences and engineering programs. Eggleton would be a part of the planning process, in particular helping oversee the design of the new building.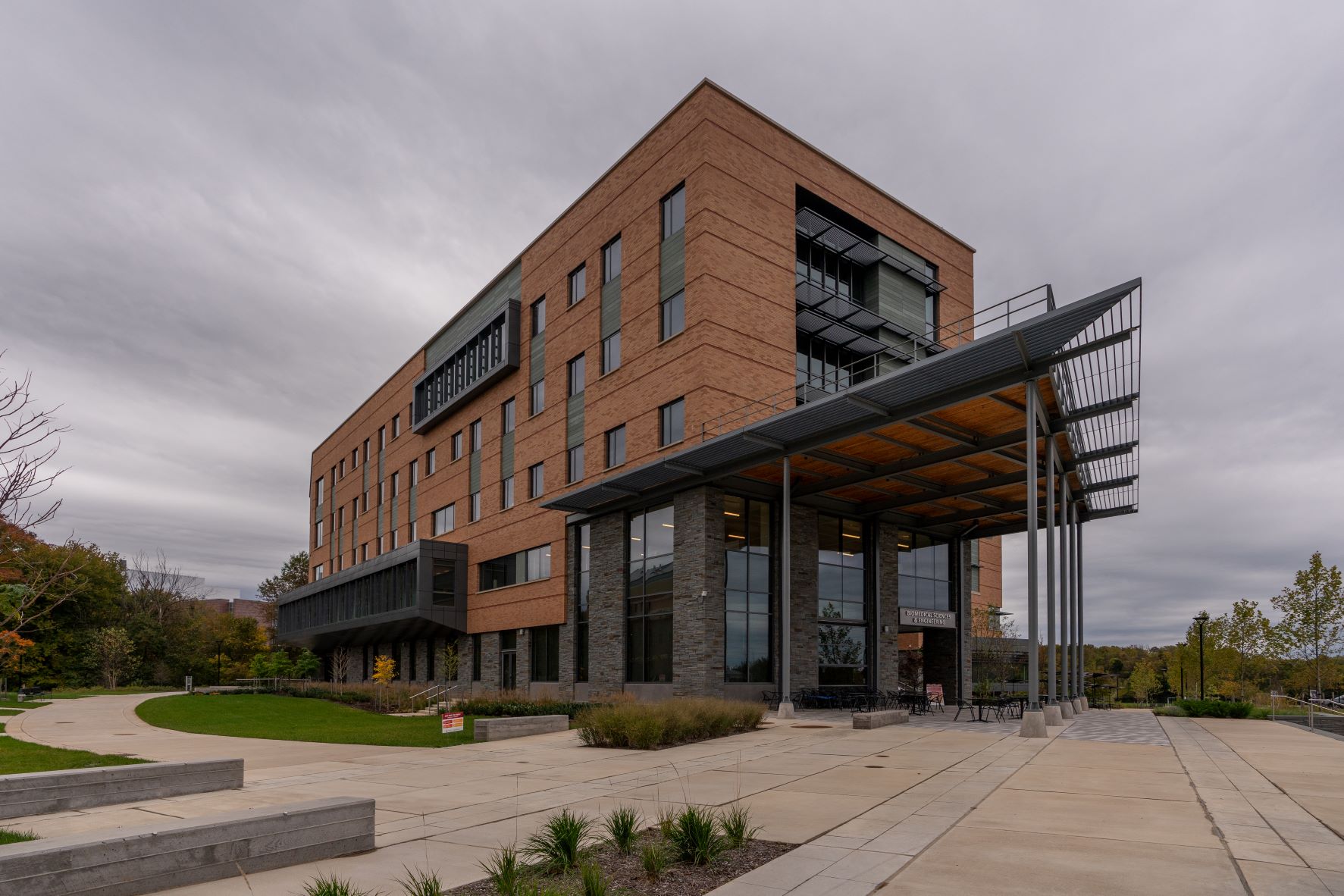 With everything still in the planning stages two years later, the bottom fell out of the economy and the entire project was put on hold. It would be six more years, 2014, before the development of what became the Biomedical Sciences and Engineering (BSE) Education Facility resumed.

By that time, Eggleton was serving as chair of UMBC's Mechanical Engineering Department, and took an active role in designing the new facility. In particular, Eggleton focused on the features of what would become the mechanical engineering labs. To make sure the BSE would be at the forefront of design, Eggleston and the rest of the team spent years researching and visiting other educational buildings around the country, determining what worked and what could be enhanced in the new facility.

In 2019, the BSE opened to rave reviews and, though it has not operated at full capacity much in its first few years due to the COVID-19 pandemic, it remains a glittering, state-of-the-art education facility for Mechanical Engineering at UMBC to move into when it begins this fall. Like Computer Science, which became available at UMBC-Shady Grove in 2020, Mechanical Engineering will follow a two-campus, one-program model with classes available at the home campus in Catonsville as well as in Rockville.

"This model makes our program available to more segments of the population that can't attend the home campus," Eggleton explained. "It's good that the program at Shady Grove is affiliated with the one in Catonsville for ABET accreditation, because students in this area want that degree from an ABET-accredited program. This location makes that available to students that may be part-time or have a job already, and for whatever reason can't make the commute to Catonsville. They will have more job opportunities after graduation thanks to that connection."

ABET accreditation is an important selling-point for the program as it recruits its first classes "When you graduate from an ABET-accredited program, you have to take a series of exams which culminate in the Professional Engineers Exam," Eggleton said. "PEs can sign off on plans. You want to knock out a wall in your house and replace it with a beam? You have to take that plan to the municipality in which you live, and a professional engineer there will sign off on it before you can move forward with work. Getting that ABET accreditation opens those doors to a wider variety of careers."

The combination of convenience and UMBC's engineering reputation makes the Mechanical Engineering program at UMBC-Shady Grove an attractive one right from the start. Housing it in the BSE, which Eggleton remains involved with as labs get outfitted for the latest equipment, only adds to the attraction.

"We're excited about bringing this to Shady Grove," Eggleton said. "And we hope we get a lot of students who are ready to take advantage of everything we have to offer."

Students interested in learning more about UMBC's undergraduate degree program in Mechanical Engineering can learn more by visiting shadygrove.umbc.edu/program/mechanical-engineering/.