"Shark Tank," eat your heart out.
In an eight-week program that ultimately led to an exciting finale reminiscent of the popular reality TV show, 30 teams of start-up businesses participated this fall in the Universities at Shady Grove (USG) Lab for Entrepreneurship and Transformative Leadership's second "Equity Incubator" for minorities and women.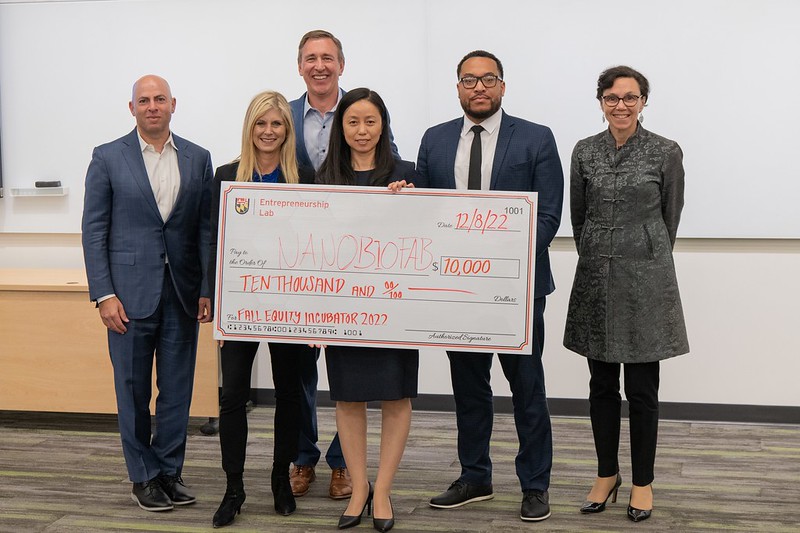 Five teams qualified to compete in the showcase at the conclusion of the program on December 8, with the $10,000 grand prize ultimately going to NanoBioFAB, a local nanotechnology firm that uses artificial intelligence-driven sensors to support innovative medical treatments and healthcare solutions.
In addition to the grand prize team, other incubator finalists included the Calmer Schools Network, Koho, Wise Cities and Trippy's Tacos. Those participating in the eight-week entrepreneur boot camp program included students at USG and other area universities, as well as start-up business owners in the community at-large.
The Equity Incubator and other programs of the Entrepreneurship Lab are made possible in part through grant funding from the Montgomery County Economic Development Corporation, WorkSource Montgomery, the David and Mikel Blair Family Foundation, and other supporters. More information about the lab and its various programs can be found on the USG website.
To watch a replay of the fall 2022 Equity Incubator Showcase, visit here, or view a photo gallery of the event here.