The Universities at Shady Grove recognized 824 fall 2014 and spring 2015 graduates from its nine partner universities at USG's Graduation Celebration on Thursday, May 7th. Chancellor William Kirwan delivered the keynote address to a capacity crowd of more than 1,000 students, family, friends, and distinguished guests.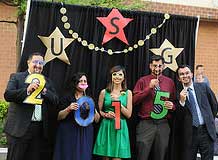 This year's class includes a record number of graduates from programs at USG and shows steady growth since the first graduating class of 36 students in 2002. In total, more than 5,400 students have now received bachelor's degrees from programs offered at USG since the campus began offering full-time, daytime programs in the fall of 2000.
"It is amazing to see the number of graduates continue to rise each year," said Dr. Stewart Edelstein, USG Executive Director and Associate Vice Chancellor for Academic Affairs for the University System of Maryland. "Our students are remarkable and our partner universities are exceptional. We would not be able to celebrate these accomplishments without such a strong and driven community."
Desiree Colvin, a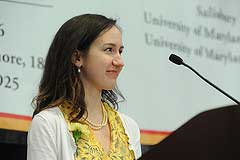 graduation candidate of the University of Maryland, School of Nursing program at USG, served as the student speaker for the event. She told her story about starting out with a degree in music and after a life-changing moment decided to go back to school to earn her nursing degree. She stood as a testament as to why it is never too late to follow your dreams, answer a calling or switch your career path.
Several other students participated in the Graduation Celebration including: Joisee-Ann Biles, a graduation candidate of Towson University's Early Childhood Education program at USG introduced Chancellor Kirwan; Mario Angulo Alvarado, a graduation candidate of UMBC's Political Science program at USG presented the class gift; Calvin Reed, a graduation candidate of Salisbury University's Exercise Science program at USG introduced the Graduation Celebration video; Robelyn Bagtas, a graduation candidate of UMCP's Public Health Science program at USG performed the National Anthem to open the evening's celebration.
Click here to view pictures of the event.