Grover Essentials is now offering "Grover To Go"
Due to the COVID-19 crisis, Grover Essentials has modified its service to provide pre-made bags to our customers. Current USG students, faculty, and staff will be able to pick up bags from campus after signing up for a defined time slot. Time slots are available Tuesday-Friday, 9AM-6PM. We ask that customers limit their visits to one every 2 weeks. During their one visit, customers may select 2 bags: 1 Food Bag and 1 Toiletry Bag OR 2 Food Bags. 
Please note Grover Essentials will remain open for appointments during COVID-19 regardless of USG's status; for weather related closures Grover Essentials will follow USG's weather decision for pickups. If you appointment is cancelled due to weather please email usg-groveressentials@umd.edu
To sign up, visit csef.timetap.com. Once you sign up and complete all the necessary steps, you will be sent a confirmation email containing your assigned locker and its code. Please bring the email and a photo ID to Building III on campus during your chosen time slot. You may proceed to the lockers following the signs in the lobby of Building III. We ask that customers look through the content of their bag and leave items they do not want behind in their locker before closing it. 
Visitors, you will be sent an anonymous intake and satisfaction survey. We understand you may have comments, concerns, or other feedback regarding the new to go system. This form is a chance to let your voice be heard. All feedback is reviewed carefully.
Cash Donations to Grover Essentials: Grover To Go are welcome, please be sure to indicate "Grover Essentials Fund" with your donation.
You may also Donate items via our Amazon Wishlist. All orders will be delivered to the USG campus, where they will be placed directly in the Grover Essentials inventory for distribution.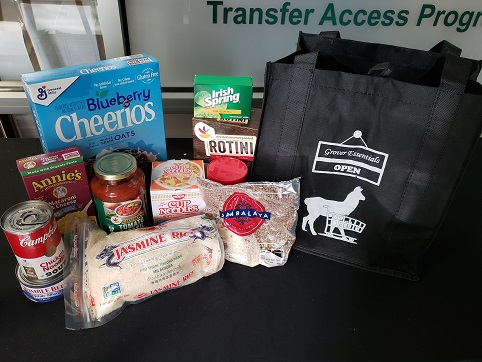 (Image of a typical Grover Essentials - Grover To Go Food Bag. Items may vary from week to week.)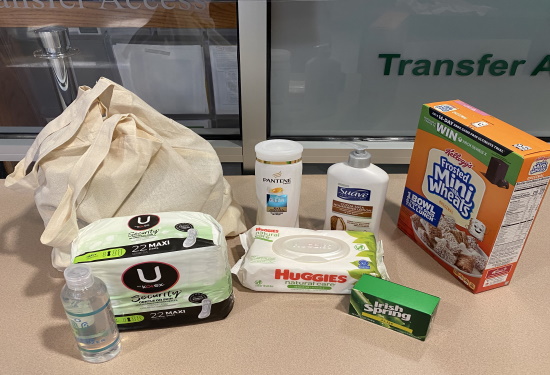 (Image of a typical Grover Essentials - Grover To Go Toiletry Bag. Items may vary from week to week.)
---
All customers recieve 1 bag of food items, and 1 bag of toiletry items. Below is a list of the items included in each bag. 
Grover To Go Food bags contain the following items. The quantity of each item is indicated in brackets: 
Dry Pasta (1 box)
Cereal (2 boxes)
Pasta Sauce (1 jar)
Dry Rice (1- 2 pound bag)
Peanut Butter (1 jar)
Tuna (1 can)
Soup (1 can)
Wildcard items (up to 3)
Grover To Go Toiletry bags contain the following items. The quantity of each item is indicated in brackets: 
Shampoo/Condiitoner (1 bottle)
Bar Soap (1 bar)
Body Lotion (1 bottle)
Menstrual Pads (1 24-count box)
Baby Wipes (1 container)
Hand Sanitizer (1 bottle)
 
Please note that occasionaly, due to supply constraints, bags may not contain exactly these items. We make every effort to include reasonable substitutions when possible.
If you are not able to use Grover To Go, we have compiled a list of local food insecurity resources that may help. For additional information and resources visit Resources During COVID-19 Crisis. If you have any questions and/or need further assistance with any resources please sign-up for a Virtual Appointment with the Center for Student Engagement and Financial Resources. 
_____________________________________________________________________________________________________________________________________________________________
Welcome to USG Grover Essentials 
USG recognizes that food insecurity and hunger is prevalent on college campuses and can have a negative impact on physical, mental, and emotional health. For that reason, USG has developed an on-site resource to increase food access and promote wellness at USG. Grover Essentials was opened at the end of August 2018 to provide supplemental food and basic necessities that we hope will contribute to the well-being and success of our community.
Who can use Grover Essentials?
All members of the USG Community with a valid USG ID are welcome to visit Grover Essentials on a weekly basis. Grover Essentials is located within the SAS Suite, First floor of building III, and is available during SAS office hours.
How does it work?
Check in at the CSEF front desk as you would for all other CSEF services. First-time visitors will be asked to complete an anonymous intake form and sign a
liability waiver
. After you are done with your visit your food items will be weighed and you will be asked to complete a voluntary satisfaction survey. Please bring a reusable bag.  
What type of items can I expect to find in Grover Essentials?
Grover Essentials makes every effort to always have stock of the following- quick snacks, cereal, cooking staples (salt, sugar, beans), peanut butter, jelly, cereal, dry pasta, canned veggies, and fruits. In addition, we have a rotating supply of baby and toiletry items.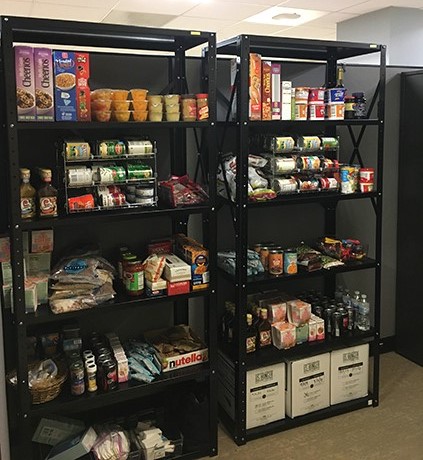 Where do the items in Grover Essentials come from?
USG Grover Essentials has a partnership with
Manna Food Distribution Center
, where they provide an ongoing supply of shelf safe items on a weekly basis.  Grover Essentials also utilizes funds received from generous donors. You can
donate
by indicating "Grover Essentials Fund".    
Can I donate to Grover Essentials?
Yes, toiletry (soap, lotion, feminine pads and tampons, toothpaste, shampoo etc.) and baby items (wipes, lotion, diapers, formula etc. ), as well as reusable bags and cleaning wipes, are always useful. These items can be brought to the Front Desk of the SAS Suite in Building III during the office hours listed on the sidebar. For more information, to coordinate a drive or large drop-off, or to request a different drop off day/time please email
usg-groveressentials@umd.edu
.  
Is there a "Wanted List" for donation items? 
Yes! Here is the list of items that are in high demand:
Feminine Pads, Tampons, Shampoo, Deodorant (for both males and females), Toothpaste, Toothbrushes, Baby Wipes, Baby Lotion and Diapers (preferred sizes 2, 3, and 4). We also take reusable bags and cleaning supplies (laundry detergent & Clorox wipes). 
Where can I find out more information on food and community resources?
For more information please check out the
food assistance
section of the
Community Resource
page.   
Is food that is past the best by date safe to eat?
In general yes, please see the key below to better understand some of the food terminology and meaning:
Use-By: This label is aimed at consumers as a directive of the date by which the product should be eaten; mostly because of quality, not because the item will necessarily make you sick if eaten after the use-by date. 
Best-By: This is a suggestion to the consumer on which date the product should be consumed to assure for ideal quality.
Sell-By: This label is aimed at retailers, and it informs them of the date by which the product should be sold or removed from shelf life. This does not mean that the product is unsafe to consume after the date. 

Canned tomatoes & tomato sauce (high-acid foods) can last up to 18 months after the use by date, best by date and sell by dates. 
Canned vegetables such as corn and green beans (low-acid foods) can last up to 5 years after the use by date, best by date and sell by dates.