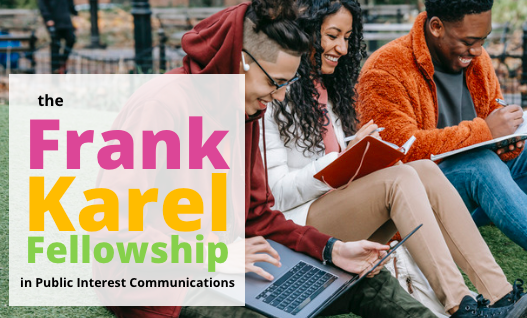 APPLICATION DEADLINE: Tuesday, February 7, 2023
WHAT IS THE KAREL FELLOWSHIP?
An opportunity for you to learn how to be a better advocate by interning in the communications department of a leading nonprofit. In the past, Fellows have interned at The National League of Cities, Greenpeace USA, National Wildlife Federation and many more. The Fellowship is eight weeks long, from June 12 - August 4, 2023.
WHO CAN APPLY?
First-generation and/or students who identify as Black, Indigenous, People of Color, who will be returning to as a junior or senior after completing the Fellowship.
WHAT ARE THE PERKS?
Every Fellow will receive a $5,000 stipend (minus taxes). Fellows will be flown out to D.C. with all travel and housing expenses covered. The Fellowship is committed to providing each Fellow with mentorship, professional development, and networking opportunities. This is a fantastic experience for college students to build their social and professional networks!
WHAT WILL THE FELLOW BE DOING?
Fellows will be asked to help with a range of communications tasks, like writing blogs, drafting social media, building media lists and pitching journalists. To learn more about what previous Fellows have done during the Fellowship, check out their blogs at
https://karelfellowship.org/category/blog/
.
WHO SHOULD APPLY?
We are looking for driven students who want to use their talents to advance social change and address the pressing issues of our time. If that sounds like you, apply! 
HOW TO APPLY
Students interested in applying must submit the following:
(Recommendation: download the form on a computer to make it fillable)
B. An up-to-date resume
C. A single document with responses to the following 5 Essay Questions:
Please note that responses cannot exceed 1500 characters (approximately 250 words)
1.  Do you consider yourself a good writer? If so, how have you leveraged your skill to help others?
2. What social issues are you passionate about?
3. What is your superpower? How do you see yourself using it in a professional setting to help others?
4. Describe an experience you have had working on behalf of those in need and what you learned.

5. Why do you think communications is important for social change, and why are you interested in spending a summer working in this field?
NOTE
: Watch
this video of Ann Christiano
and read the following text explaining what the field of public interest communications is to answer this final essay question.

"Public interest communications is an emerging field that uses strategic communications grounded in research and science to achieve sustained and positive social change in areas ranging from climate change and racial justice to health care access and housing policy. It borrows from its sister fields of public relations, advertising, journalism and marketing and is informed by sociology, psychology, neuroscience and political science. The issues to which public interest communications is applied transcend the interests of any single organization. The idea is to create lasting change by going beyond just raising awareness to motivating people to effect positive societal change."– The University of Florida College of Journalism and Communication
Reminder - Question 5: Why do you think communications is important for social change, and why are you interested in spending a summer working in this field?
Save all documents as pdf files as "lastname_firstname_document" (Example: Maryland_Martin_Eligibility; Maryland_Martin_Resume; Maryland_Martin_Essay)
NOTE: Finalists will be asked to submit a letter of recommendation by February 15, 2023, so invite your recommender now and have that letter ready!
Interested in more information?
Read
this blog post
by USG's 2022 Fellow or
Click Here
to watch the recorded Karel Fellowship Panel Discussion. (Passcode: Uv=1m1HF)
(Users may be asked to provide name and email for access the recording)